Turkish tea is a staple at breakfast, a perfect way of relaxing during breaks at work and a must after a long tiring day. We serve it to our guests even without asking because everyone expects so. This strong black tea has a big role in our daily life. We love its soothing effect at any occasion.
A Part of Breakfast
In Turkey, we start the day not with coffee, but with a glass of newly brewed Turkish tea, which has a tempting and stimulating fragrance. Breakfast means tea for us. If there is no tea at breakfast, it lacks the main thing. You know a typical Turkish breakfast includes several foods like olives, cheese, cucumber and tomato slices, jams and eggs.
These must be accompanied by tea as a drink. On the other hand, if you don't have time for breakfast at home during weekdays, you can buy a newly baked crunchy simit from a pastry shop or a street vendor and have it with a glass of tea at work. The quickest way of breakfast for working people.
What Is A Turkish Tea Set?
A Turkish tea set normally contains the following four items:
Turkish tea glasses
Turkish tiny teaspoons
small plates on which you put the glasses
a tray to serve all the glasses together.
You can find these easily at online shopping sites that sell Turkish products.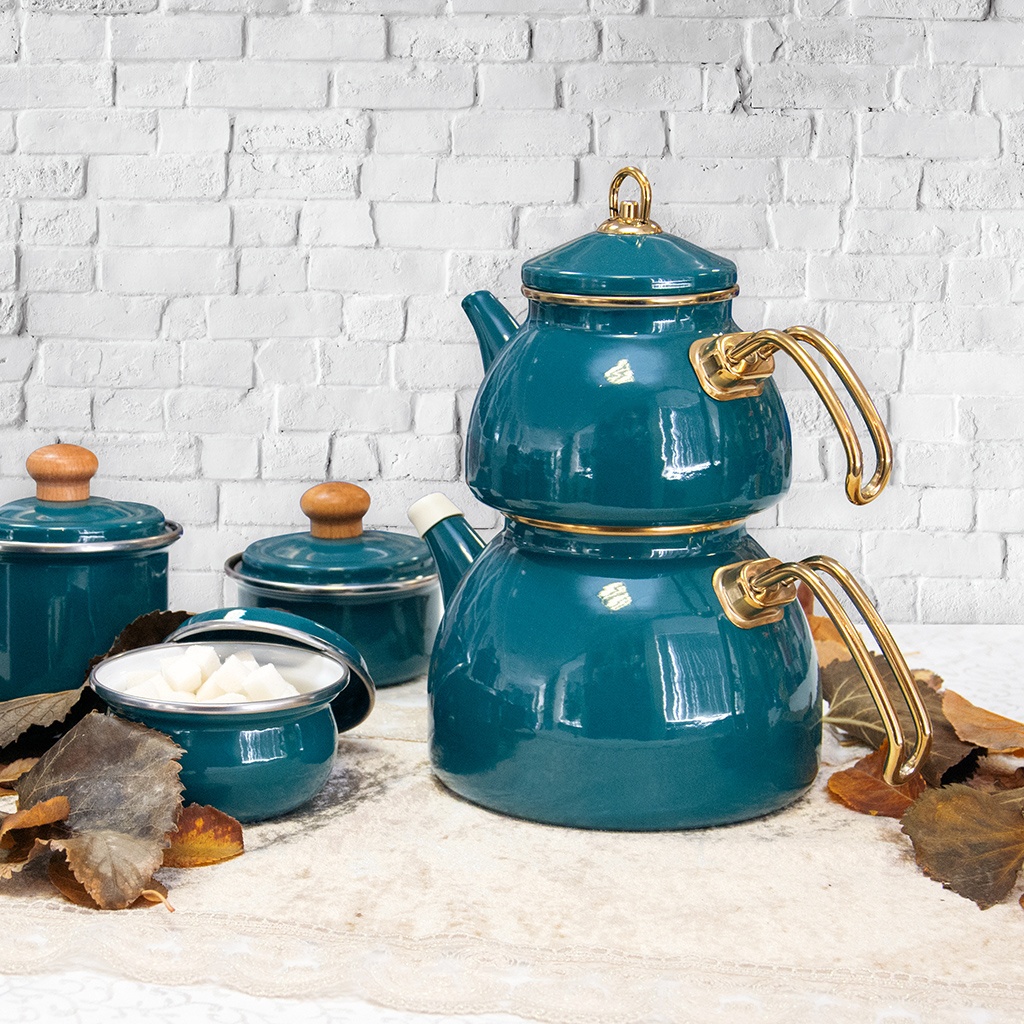 How To Make Turkish Tea In Turkish Tea Pot
There are two pieces of our traditional tea pot (Caydanlik). As you see in the pictures here, one small and one larger. The small one is placed above the larger one. It is really so easy to brew Turkish tea when you follow these steps:
Pour ¼ cup of water in the small tea pot. Add in tea leaves (5 tablespoons for 6 people) and cover with its lid.
Fill the large tea pot with water. Put them together (small one above the larger) on the stove over medium high heat. Bring it to boil.
Reduce the heat and let it simmer for about 5 minutes so that the heat reaches the tea leaves in the small tea pot.
Transfer more than half of the water in the large tea pot into the small teapot. Fill the large one with additional water and put them back on the stove. Again the small tea pot over the large tea pot. Bring the water to boil first and reduce the heat to the lowest and let it simmer for 10-15 minutes. The tea will be brewed as the tea leaves will sink by the end of this time. Then you can either leave tea pot set on the stove over the lowest heat so that the tea keeps hot or remove from heat, serve and reheat when needed.
Source: https://www.giverecipe.com/turkish-tea/
Recent Posts
Turkish coffee is rich, thick, and a delightful drink to be enjoyed slowly with good company. It is …

Turkish tea is a staple at breakfast, a perfect way of relaxing during breaks at work and a must aft …